The 2010's has had a very mixed run of WrestleMania's. Beginning with WrestleMania 26, a showcase of the PG Era's best and the retirement (or so we thought) of legend Shawn Michaels, then ending with WrestleMania 35 the coming of age of 'The Man' Becky Lynch who competed in the first ever all female main event at the Show of Shows.
Most events have been influential and have impacted the wrestling year to follow each show, however, if there is one show that I think is one of the biggest missed opportunities in WWE history, it's WrestleMania 29.
The fallout from the questionable booking and underwhelming in ring action bar the incredible CM Punk/ Undertaker match led to many dire consequences including a core reason for multiple talents walking out of the company over the next few years.
Although I don't think this card was booked terribly, I'd like to have a shot and give WrestleMania 29 a re-write.
Firstly, I am a not at a writer or booker for World Wrestling Entertainment and I understand that a lot more goes into it than just who wins and who loses. Merchandise, personality clashes, crowd reactions among many other factors can all impact booking so this is not to say I'm better than any creative member of a wrestling company, this is a fun attempt at what could have been.
Secondly, I will be only vaguely detailing storylines, match endings and only talking about the show and potential ideas for post WrestleMania 29, almost like an open-ended book.
With that out of the way welcome to WrestleMania!
Randy Orton vs Sheamus vs The Big Show
To kick off the show we're going to have a triple threat match between Randy Orton, Sheamus & Big Show. At the actual event these three men teamed up against The Shield, this was fine, but for my taste I think that match could've taken place on television leading up to WrestleMania only for their personalities to clash, therefore leading The Shield to win.
Beyond that, all three were in or around the World Heavyweight Championship scene and could have a fun ten-minute brawl to kick of the show. Randy Orton would pin Big Show following a Brogue Kick/ RKO combination and Orton subsequently throwing Sheamus out of the ring.
AJ Lee vs Kaitlyn (WWE Divas Championship Match)

Up next would be a Divas Championship Match between AJ Lee and Kaitlyn. It's disappointing that for a number of years in the 2010's there was not an all-women's wrestling match, once again this show stands out because AJ Lee and Kaitlyn were both solid wrestlers who had been building a long-term storyline between the two during this time period.
If you'd like to know what these women were capable of, check out their match at Payback 2013. Let's give them ten to fifteen minutes to have a competitive match with AJ Lee coming out on top with some help from her allies at the time Dolph Ziggler and newcomer Big E Langston. I think AJ should keep this title up until the next year's WrestleMania, Kaitlyn would've had a fun reign up until this point and no other wrestler had enough going for them to get the strap during this time period. Plus, it would make Paige's eventual victory much more meaningful.
Streak vs Streak 6 Man Tag: Team Hell No & The Undertaker vs The Shield

Undertaker is having an early night at WrestleMania 29 because his match is up next. Time for a bit of backstory.
Personally, I think the End of an Era Hell in a Cell match at WrestleMania 28 should've been the final chapter in his career. Everything else after that has not topped the intensity and emotion of that match, but if the Deadman still wanted to go I don't think throwing him into a personal rivalry where literal ashes are poured over his body is the way to go.
As great as his feud and match with CM Punk was, it felt like an awkward encore to the year prior and also made fans a bit bored of the 'high stakes, anything can happen' one on one feud that would typically occur, leading to a lack of heat for his streak ending match against Brock Lesnar.
The solution? The Shield.
If you remember, on a random episode of Smackdown in late 2012, Undertaker was randomly attacked by The Shield, after this he teamed with Team Hell No in a six-man tag against The Shield in England, an underrated gem in my opinion.
In my version, this match doesn't happen, yet, but the attack remains and we do not see The Undertaker until just before WrestleMania. Until then, The Shield should continue to run rough shot on the company, you'll hear about some of their actions later on but that classic Shield beatdown, havoc causing nature will remain.
This builds to the Elimination Chamber Pay-Per-View where Team Hell No will defend their Tag Team Titles against Roman Reigns and Seth Rollins. Reigns and Rollins win the titles with some help from Ambrose. After the match Kane takes the microphone and announces that Team Hell No will find their own third man.
The build to WrestleMania is Team Hell No asking former tag team partners of victims of The Shield to team up with them, some decline, some accept but are taken out by The Shield. This gives the show a lot of creative opportunities for guys like Goldust or Rob Van Dam to come back to be apart of the story. A couple of weeks out, Daniel Bryan asks to Kane to make the call, after some resistance Kane agrees to find him. The Shield come out the next week and warns whoever the mystery partner is to stand down or risk permanent injury. Bells toll. Lights go out. The Deadman cleans house.
This storyline is a fresh approach to both The Shield and Undertaker's streaks, particularly Undertaker's because his individual streak could be lost by either Daniel Bryan or Kane meaning that all three men to trust each other.
The match occurs and despite some growing pains, the sheer force of The Undertaker helps his team overcome The Shield.
In the end, it took the greatest streak in wrestling history to beat the dangerous, new faction who can now be fueled by vengeance.
Brock Lesnar vs Triple H
This next match will expose how I'm not an incredibly innovative person at all times, because I'm keeping Brock vs Triple H. I know, I know. I wasn't a fan of this match, but the feud served a purpose and it would make no sense to not have the WrestleMania rematch with Triple H winning. So yeah that slugfest can occur after the hopefully chaotic six-man tag.
Intercontinental Championship Ladder Match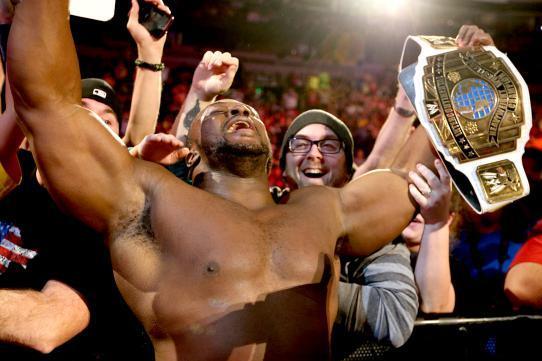 The most prestigious championship in the company's history… at least that's what the say whenever it's not a WWE Championship match, is up next. We're going to have an eight-man ladder match with the pretty Intercontinental Championship swinging above the ring. Kofi Kingston, champ Wade Barrett, The Miz, Dolph Ziggler, Mark Henry, Brodus Clay, newcomer Big E Langston and US Champion Antonio Cesaro will slowly climb tall ladders to win the strap.
This will play out like your classic championship ladder match, my emphasis from a storytelling aspect is the alliance between Big E and Dolph Ziggler, they're going to work together for most of the match before descending eventually and taking the other out. However, in the conclusion of the match Kofi Kingston is climbing the ladder, Dolph Ziggler meets him and they brawl. Big E interrupts and pushes both men of off the ladder, Big E climbs and becomes the new champion.
Alberto Del Rio vs Chris Jericho (World Heavyweight Championship)
World Heavyweight Champion Alberto Del Rio is set to defend his belt against the winner of the 2013 Royal Rumble match. Let's find out who it is.
When Chris Jericho made his shocking return as the number two entrant in that year's Royal Rumble, I thought it was obvious that he would win the match over the likes of John Cena, Ryback and Sheamus. He looked like he was incredible shape, he was over as a returning babyface and it would make a perfect World Heavyweight Championship match, an appetizer for the show's main event.
However, WWE decided to use the match to place John Cena in the main event of WrestleMania, choosing one of the more safe options they had at their disposal.
Here, I'm going to have Chris Jericho win the match and go on to wrestle Mexican superstar Alberto Del Rio, the two men should build to an initially respectful rivalry. Dolph Ziggler reacts to this with jealousy, he was jousted out of a championship opportunity at WrestleMania (he is especially salty about being eliminated by Jericho), he promises to sabotage their match with his Money in the Bank contract. Jericho challenges Ziggler to a one on one match and if he wins, he will be added to the championship match. Del Rio doesn't trust Jericho however, so he challenges Ziggler and protégé Big E Langston to a tag team match at Elimination Chamber.
They have the match and as it reaches its boiling point, Ziggler realizes Big E is going to be defeated by Del Rio. Dolph grabs his briefcase and attacks Del Rio, repeatedly. Big E recovers and helps beat down Del Rio, Ziggler realizes he should cash his briefcase in right now. However, Jericho stops this from happening, saving the day. Jericho offers his hand to help Del Rio up, which is declined.
The next SmackDown, Jericho demands a thank you from Del Rio for saving their championship match from a hijacking and he is savagely beated down by Del Rio in response prompting a Del Rio heel turn. The two continue to build a classic heel vs face storyline, Jericho being a legend of the business looking to prove he is still world class whereas Del Rio is determined to take Jericho's place in the company.
The match goes down at WrestleMania and in a 30-minute classic, Jericho is able to pin Del Rio after he hits a Code-Breaker.
I feel you accomplish so much more with this match than the originally awkward and borderline racist Del Rio/ Swagger match. Chris Jericho gets a huge, babyface championship win at the Show of Shows. Del Rio organically falls back into the heel role he was so successful in and it leaves so many more storytelling opportunities. For example, I think Dolph Ziggler's cash in on Alberto Del Rio in real life is one of the greatest of all time, why not do the same thing but replace Del Rio with Jericho keeping a near nine-month long rivalry alive.
Jack Swagger vs Fandango
Speaking of old Jack Swagger, I would like him to still have a showcase match at WrestleMania, however, I just don't see a lot of potential with his character at this point in time. Thank goodness he was teamed up with Cesaro to become the Real Americans, because I have no clue what else he could possibly be doing.
We're going to throw Swagger in there with newcomer Fandango and give them a short showcase match with Fandango outwitting Swagger to beat the heel. Hopefully, the big reactions he got maintain and Fandango can successfully turn babyface.
Moving on.
Ryback vs John Cena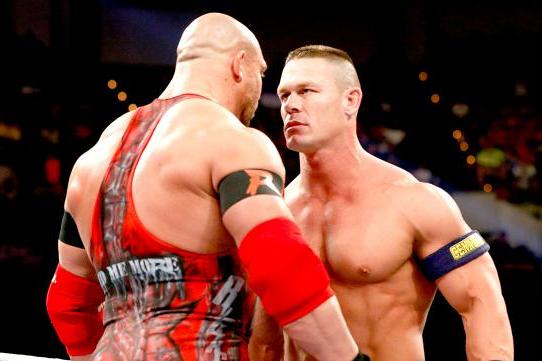 For these last two matches, let's discuss the build for both before revealing the outcomes.
There are only two things I would change about CM Punk's WWE Championship reign during this time. The first being that after John Cena's untimely injury at Night of Champions I would not have chosen Ryback to feud with the Best in the World. Ryback should have been slowly built up some more, not suffering a singles loss prior to WrestleMania. Instead, I think the gutsy Kofi Kingston should have feuded with Punk.
They have history as tag team partners and the underdog nature of Kingston could enhance the dangerous stakes of Hell in a Cell or TLC matches. Instead of Punk being trapped against a beast like Ryback, it's Kofi trapped inside with a ruthless, dangerous champion. I think it's much more entertaining than another Kingston/Barrett/Miz etc. match.
So Cena would lose thanks to The Shield at Survivor Series, Kingston also being thwarted on RAW during a championship match. At the Royal Rumble, we reach the final six men in the Rumble match. Jericho, Cena, Ryback, Big Show, Kingston and Cesaro. Funnily enough the first to be eliminated is Ryback by Mr. Cena himself, shovel and all. Kingston is eliminated by Cesaro, who is eliminated by Cena who is elimated by Big Show who is then eliminated by Jericho.
On the same night CM Punk defends his WWE Championship against The Rock, this match literally plays out in the exact same way, I personally loved it. However, should not have rematched at Elimination Chamber. Instead, CM Punk should demand that rematch only for Vince McMahon to punish Punk for his reliance on The Shield (we're removing the Brad Maddox thing) so if CM Punk wants his championship rematch he must win inside the Elimination Chamber from the number one spot.
So, inside the Chamber we get down to the final three Ryback, John Cena and CM Punk. They basically have a triple threat match, Punk hits the GTS on Cena and Ryback follows it up with a Meathook Clothesline and pins John Cena. Punk head kicks Ryback, Punk then signals for something to happen, that thing turns out to be The Shield they rush the Chamber, but Cena stands between them and entering the unlocked door. Cena, somewhat heelishly steps aside and The Shield attack Ryback, but Cena changes his mind and attempts to save the day, within the madness Punk hits Ryback with a GTS and pins him.
This sets up Ryback vs John Cena and CM Punk vs The Rock.
Cena has been stood up by the new star Ryback, a man who's never been pinned clean in a one on one match. They have a fun, high spot match which ends with Cena beating Ryback after the man beast passes out while locked into an STF submission hold. The torch will not be passed, yet. This sets up a potential Ryback heel turn, or a John Cena heel turn to be quite frank, a man fearful of being overthrown by the future. Or whatever Ryback was supposed to be.
The Rock vs CM Punk (WWE Championship)
Now for the main event of the evening WWE Champion The Rock vs CM Punk. This seemed sort of obvious, especially since Punk has stated not main eventing WrestleMania to be one of the big reasons for leaving the company. But beyond that, this was obviously a real passing of the torch style match which is something John Cena has experienced time and time again, but he wasn't really the future anymore, was he?
Cena would only hold the WWE Championship a handful of other times beyond 2013, mainly being a placeholder for injured talent or to only lose a month or two after gaining it as he transitioned into Hollywood. Sure, Punk left, but what if they went all in on him? What if they gave him the biggest win a talent could have other than beating the streak? In my opinion, he would've helped WWE return to the mainstream.
So him and Rock are going to have an epic WrestleMania main event, one of the stipulations being that The Shield cannot interfere, but that's not necessary because CM Punk, after three GTS's pins The Rock clean in the middle of the ring. He holds up the championship, fireworks, pyro, lasers (?). A new star is truly born, a new era begins.
So what did you think? Did you like my attempt to save WrestleMania 27? Comment below, and maybe challenge me as to which show I should save next?