The passing of his father & football career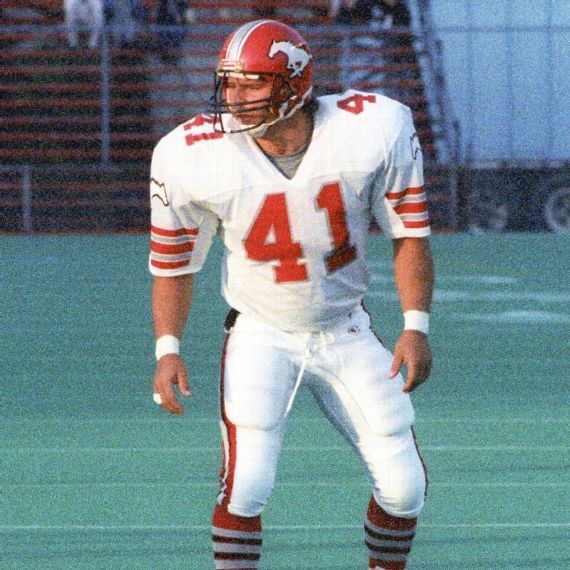 Brian Pillman's father passed away when he was young. And when Pillman reached the the age of three he battled for his life after being diagnosed with throat cancer. He almost died various times and went through thirty surgeries which is what made his voice so raspy.
Later in life he became a stand out football player in high school and college. Pillman played for the Redskins as a record setting defensive tackle but achieved less success academically. Miami rugby player Bill Minnich stepped in to tudor Pillman who became a Division I-AA Second Team All-American in his junior year and a Division I-AA All-American in his senior year, nonetheless he went undrafted in the 1984 NFL Draft. He then joined his hometown Cincinnati Bengals as a free agent.
Pillman played for the Buffalo Bills in the 1985 preseason but was the last player cut before the start of that season. He then ventured to the CFL and joining the Calgary Stampeders in 1986.
Getting his start in wrestling and running with the four horseman
Pillman was trained under the legendary Stu Hart as a wrestler debuting in Stampede Wrestling, he also wrestled in NJPW but wasn't recognised as a wrestler until his later work in WCW as Flyin' Brian.
It was here where Pillman tagged with Stunning Steve Austin as a part of the Hollywood Blondes tag team, they had a run with the WCW tag titles before Pillman moved on and joined the four horsemen. At the end of 1995 Pillman developed his loose cannon gimmick, this is where he would garner a reputation for unpredictable and unstable behaviour.
Pillman also decided to switch out his clean athletic look for a much edger and psychotic image. The Four Horsemen (especially Arn Anderson) became worried for Pillman and tried in vain to keep him in check.
In a match with Eddie Guerrero at the 1996 Clash Of The Champions Pillman decided seemingly out of the blue to grab commentator Bobby Heenan by the collar causing Heenan (who had a history of neck problems) to audibly blurt out "what the fuck are you doing?" On live air.
The Horsemen and The Dungeon Of Doom were trying to come together to erase WCW of Hulk Hogan, but Brian Pillman couldn't keep his cool. This left Arn Anderson with the bothersome task of trying to keep Pillman in check, as his actions were jeopardising everything.
Kevin Sullivan (who was the leader of The Dungeon Of Doom) would tell Ric Flair and Arn Anderson that Pillman was disrespectful and not "Horsemen material." Everything broke down during a tag team match on Nitro that pitted Anderson and Pillman against Kevin Sullivan and Hugh Morrus. This match (occurring one week before Superbrawl 6) was simply strange, but oddly entertaining as Pillman and Sullivan refused to sell each others offence, and later in the match the two beat the hell out of each other. They were wildly swinging fists and this all came across like a shoot, alas it wasn't.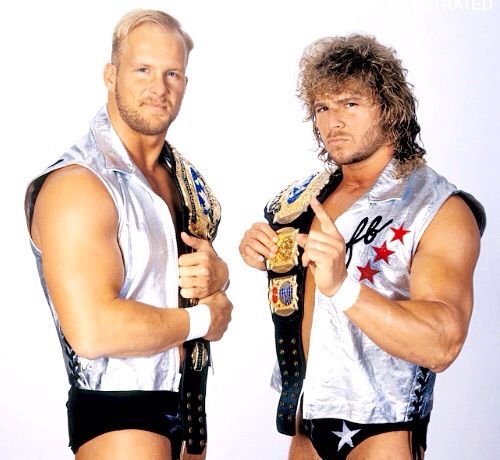 Pillman outed Kevin Sullivan for his role as WCW booker during the February 1996 Superbrawl 6 PPV (this being months before the Curtain Call incident transpired).
During an "I Respect You" strap match (where the loser must state they respect the other wrestler) much like an I Quit Match, Sullivan and Pillman collided in the ring that night and the match just felt strangely off.
Pillman dashed into the ring and the two men started realistically brawling straight away. It was an unexpected way to kick things off and less than a minute into the match when they finally got some distance between them, Pillman lunged for the referee (who obviously was not expecting him.) Pillman clutched the mic and said the words "I respect you… booker man." The match was over before it had started and both the crowd and commentators were silently stunned.
On the commentary side of things they covered up the fact that Pillman used the term booker man. This moment is when the loose cannon story line was truely born, it was a worked shoot created by Pillman and Sullivan primarily designed to interest/fool the so called "smart" fans watching WCW every week.
Eric Bischoff later claimed in his own book that he was fully aware of the gimmick and endorsed it. Pillman as a part of the work even went to WCW's lawyers and asked them to grant him his release which they subsequently granted thus giving him the opportunity to work elsewhere, essentially though it was Bischoff who allowed the release because although he was aware of the risk that Pillman could work elsewhere he assumed that Pillman would eventually come back and finish out the planned angle as intended.
We will never know if he would've fulfilled this agreement, but Eric Bischoff claimed Brian Pillman was in contact with him the entire time he was at WWF and that his goal was to one day come back to WCW.
The Loose Cannon Journeys to Land of the Extreme
Now it's no secret that Pillman was on the WCW payroll when he started working for ECW as he made several appearances on WCW TV (which made Hulk Hogan want to face him) whilst being in ECW, nonetheless.
Immediately following his sudden WCW departure (which turned the four horsemen into a trio.) Pillman rejoined ECW after a short stint dating all the way back to 1994 and showed up at their annual internet convention ECW Cyberslam.
On February 17th 1996, during an interview conducted in the ring by Joey Styles, Pillman insulted his WCW boss Bischoff calling him a commentator, golfer and a piece of shit.
Pillman then turned his attention towards the ECW audience, insulting them by calling them smart marks. After Styles' failed attempt to end the interview Pillman threatened to yank out his johnson and urinate in the ring.
He was then confronted by an enraged ECW owner Tod Gordon, Paul Heyman and wrestler Shane Douglas who had him removed from the ring by security guards. While being dragged out of the arena Pillman attacked a fan sitting in the audience with a fork he retrieved from his boot.
On the March 5th episode of Hardcore TV the show kicked off in someone's home and we see Pillman arguing with a giant pencil. This pencil (which represented a booker) wanted Pillman to do a job which Pillman responded to by telling the pencil he wouldn't be putting anybody over before attacking the pencil.
At first the pencil gets the better of Pillman who says he always finds himself fighting with the pencil before he begins choking the pencil out. Pillman then puts up the four fingers to represent the horsemen as the segment ends.
While he never wrestled with ECW he made several more appearances in the promotion notably engaging in a war of words with Shane Douglas to set up a proposed feud that unfortunately went nowhere.
Pillman Abandon's ECW and Joins the WWE
With his loose cannon persona Pillman was the talk of WCW, WWF and ECW, he actually decided to go to the WWF instead of wrestling Shane Douglas.
On April 15th 1996 Brian Pillman was badly injured after falling asleep in his his Hummer H1 in Kentucky and driving into a tree thus flipping the vehicle. He was stuck in a coma for a week and suffered from a shattered ankle which forced doctors to fuse it together in a fixed walking position.
This forced Pillman to abandon his classic high flying wrestling style for a more grounded one. Regardless Pillman signed a contract with the WWF on June 10th 1996, with the signing announced during a press conference, Pillman worked as a commentator while recovering from his broken ankle before transitioning into a wrestling role after attacking a fan during an episode of Shotgun Saturday Night.
On the November 4th 1996 episode of Raw Pillman took part in the infamous "Pillmans got a gun" angle with his former Hollywood Blondes team mate Stone Cold Steve Austin.
The Legendary Fued with Steve Austin & The Coining of "Pilmanizing"
When Pillman first arrived in WWF he had aligned himself with his former team mate Steve Austin, serving as his lackey while he recovered. However Pillman noticeably began favouring Austin's nemesis Bret Hart before Austin had enough and brutally attacked him in the ring during an interview on an episode of Superstars in October of 1996.
Austin lodged Pillman's leg inside of a steel chair between the seat and headrest before jumping onto it, this later became a classic wrestling trope and conned the term of "Pillmanize."
Austin and PIllman had been feuding for several weeks until Austin finally had enough and decided to visit Brian Pillman at own home in Kentucky. Pillman showed he was in possession of a pistol while waiting for Austin to visit his home.
Austin had to incapacitate various friends of Pillman outside of the house and when he broke into the premises Melanie Pillman and a WWF interviewer began screaming as Brian Pillman aimed the gun at Austin.
The camera feed was then disrupted and the screen faded to black. The on-screen director informed commentator Vince McMahon that he had heard several explosions and the camera feed was restored. Friends of Pillman dragged Austin away from the house while Pillman aimed the gun at Austin stating his intention to "kill that son of a bitch" and for people to "get out of the fucking way."
This segment felt very real and the explicit language could not be removed as this was a live broadcast. This angle nearly caused Raw to be pulled from the network and both the WWF and Brian Pillman were forced to apologise for the segments.
Allied with the Hart Foundation & His Tragic Death
After Wrestlemania 13 Pillman returned and aligned himself with his real life buddies Bret/Owen Hart, The Bulldog and Jim Neidhart. Together they were the Anti American Hart Foundation.
On July 6th at the legendary In Your House 16: Canadian Stampede in Calgary Pillman and the Hart Foundation defeated the American team of Steve Austin, Goldust, Ken Shamrock and The Legion Of Doom in a classic main event ten man tag team match. Pillman was the only member of The Hart Foundation who wasn't a strict Hart family member which shows the amount of respect he had gained from the Harts.
On October 6th 1997 Brian Pillman was scheduled to face Dude Love at the WWF PPV show In Your House Badd Blood. As the show was getting close to bell time Pillman had not arrived and was later found dead at his hotel room in Bloomington Minnesota.
He was only 35 years old.
Police originally believed he may have overdosed on pills, and WWF officials who were travelling from Minneapolis to St Louis and preparing for the PPV did not receive word of Pillman's death until several hours later just before going on air for the PPV that night.
They announced Pillman's death during the free for all pre game show and several other times during the broadcast. Vince McMahon said on the air that authorities did not expect foul play but did mention prescription drugs may have been the cause.
Pillman wrestled in Minnesota the night before his death and a referee on that card stated that PIllman seemed to be in good spirits before the card, but sometime after the match the referee noticed Pillman sitting up against a wall staring into space and later lying in the fetal position at a corner.
Various people offered to take Pillman out to dinner, but Pillman turned them down. Instead Pillman ended up going out drinking with some other wrestlers including the Harris Twins of the DOA. He was last seen stumbling by his hotel room just past 10PM that night. It's not known what time he returned to his hotel room but it was there he died in the night most likely in his sleep.
In the weeks before his death Pillman had been worrying his friends and co-workers. He failed a WWF drug test but was not taken off the road. Some sources say he was suspended without pay. He also missed a scheduled appearance around this time because he never made it out of an air port, due to being so out of it.
Since his Hummer H1 car crash in 1996, Pillman was also having major professional problems, due to the fact he had lost mobility in his ankle, causing him tremendous pain after workouts and matches.
That led to a reliance on pain pills which was used and abused by the majority of wrestlers around this time. Pillman was also said to be emotionally distraught at times over not being able to do the things he once was able to.
The controversial interview with Pillman's grieving wife
The WWF held a number of tributes which were respectful but what was less respectful however was the decision to let Vince McMahon interview Brian Pillman's grieving wife on live television just 24 hours after her husbands passing.
The sight of a clearly distraught Melanie Pillman being rolled out for entertainment purposes was bad enough but what was truly offensive were the questions from Vince himself which were all seemingly intended to help distance WWF from the circumstances of Brian Pillman's death.
Vince McMahon wanted the audience to believe that Brian Pillman had died because of his own vices and not because of nay illegal substances that correlate with the WWF lifestyle.
Years later Melanie stated;
"Vince told me I didn't have to do the interview if I didn't want to, but I felt obligated to him. I knew he wanted me to do it and I knew I would be relying on this man for food."

Melanie Pillman
Melanie alleged that Vince payed her the fifty thousand balance of Pillman's first year contract and sent her a further sixty five thousand after a memorial wrestling show he organised before giving a further 12 thousand to make a down payment on a home.
Brian and Melanie were involved in a heated divorce at the time of his death in 1997. Melody has said that the divorce was supposed to be a wake up call for Brian and they were still living together at the time of Brian's passing, but he was banished to the basement.
Brian Pillman Jr later said:
"Why would you even go on TV 24 hours after your husband died? Give me some money and I'll do anything! She just sits on WWE royalties and she doesn't have a job or nothing, she just spends it all away.

When my car broke down one time I needed 1500 bucks to fix it, she gave me 800 bucks. I'm like, well at least she gave me something."

Brian Pillman Jnr
The Sad Passing of His Daughter Alexis Reed
WWF held an annual Brian Pillman Memorial Show from 1998 to 2001. Back in early 2008, Pillman's adopted daughter Alexis Reed entered professional wrestling as a valet and ring girl under the name "Sexy" Lexi Pillman. On November 26, 2009, Reed died from injuries sustained during an automobile accident. Reed was only 26 years old.
The Rise of His Son; Brian Pillman Jr.
In February 2017 Brian Pillman Jr announced he would be following his fathers footsteps in becoming a professional wrestler. He was trained by Lance Storm in Calgary Alberta Canada, Pillman's legacy lives on through his son.
He would make his debut in December 2017 wrestling for Major League Wrestling as part of the New Hart Foundation with Davey Boy Smith Jr. As of December 2020 Brian Pillman Jr now wrestles in All Elite Wrestling alongside Griff Garrison in a tag team known as the Varsity Blondes which hails back to his fathers days in the Hollywood Blondes.
Brian Pillman's legacy will live on through his son, and we wish him all the best in his career and for the incredible opportunity to continue his father's name in the industry he loved.