Now how does Xavier spend a Saturday night? Perhaps not as soaked in depravity as one may ascertain, no in fact last Saturday night I was gifted tickets for the PCW Summer Series Grand Final which happened to be taking place at the South Eastern Entertainment Centre.
After a hour long trip into the city, and then yet another hour long trip into Ferntree Gully (via public transport) there I was. Hidden away in an area that I was not accustomed to, in which I would never suspect wrestling to take place in. Upon my entry into the building I was greeted by some friendly staff who of course recognised me from my highly regarded and universally loved articles, the venue was humble in size and the patrons were juggalo-esque in appearance.
That's not to say I didn't appreciate the fringe nature of it all, but I certainly wasn't in my neck of the woods anymore. The ring area looked professional and the grandstand seating was comfy which is a rare occurrence for somebody with my height.
Royce Chambers v JJ Furno v Emman The Kid
To me this was a perfect opener and played out like an old WCW PPV when they had Luchadores start/steal the show.
Royce Chambers made his way to the ring first and right away it gave me the impression that PCW is a professional promotion. Chambers has an incredible physique and right off the bat you know who's gonna be the star of this match.
JJ Furno (amazing name) is next and who doesn't love flame attire? During his entrance he carried himself with a loveable intensity and I reckon with a little more muscle could become a awesome star. Finally Emman the Kid, who pre covid was making waves with highly regarded matches vs Robbie Eagles, round up the trio for the opening contest.
The bell rung and the three did what you would pretty much expect from three high flyers battling it out. Chambers clearly carried the match while the other competitors had various moments of hesitation. There was plenty of dives but one moment stood out to me in particular and that was when Royce was standing with Furno in-between his legs (as if he was about to deliver a power bomb), when suddenly Emman out of nowhere leaped towards Chamber and gave him a Frankensteiner which in turn led to Furno receiving a Destroyer.
In the end Chambers picked up the win and he is certainly a wrestler deserving of his fan following.
PCW Ignition Championship: Nate Cross v WAIK
As soon as I heard the word Ignition, the R. Kelly song immediately became stuck in my head.
So from what I gathered WAIK is a light weight competitor possessed by a demon, and looks a bit like he's the offspring of Baraka from Mortal Kombat and Hornswoggle.
Cross on the other hand is a classic rich kid heel. I enjoyed his crowd work and he improved the match with his character work. I felt WAIK on the other hand hindered the heat of the match by using heel moves and tactics like biting and hair pulling.
I'd be interested to see a match like WAIK up against Mad Dog, as I feel that would be a great styles match. On the positive side WAIK had an awesome look costume wise and the sound of everybody chanting his name added to the overall package.
Tables Match: Ryan Rapid v Lucas Daniels
This match was awesome, and worthy of being the main event of many shows across the country.
These are the two biggest guys on the show and it's a tables match. Lucas Daniels is a beast, and just like Royce Chambers, he is brimming with potential. Ryan Rapid on the other hand was serviceable though shows great potential, and I think he can go really far with a little more work on his physique.
Early in the match Daniels whipped Rapid with a kendo stick which produced the most beautifully painful sound. Rapid was selling big time and when it seemed as if Daniels had the match won, a wrestler interfered only to receive a spear from Daniels through a table set up in the corner which twisted the guys neck up brutally.
The wildest moment of the entire show came when Rapid sunset flip power bombed Daniels off the apron through a table outside the ring. It was a highly entertaining match and although Daniels took a few too many bumps for a big guy, it definitely should've been the main event.
PCW National Championship Open Challenge : Mark Kage v Mad Dog
So Mark Kage comes out looking for a fight and the call to action is answered by death match wrestler Mad Dog. This was another unique mix of styles and I felt the match went on just a bit too long.
After the final bell Mad Dog also appeared to have possibly aggravated an existing knee injury which is never good news. After Kage was victorious, we're greeted by PWA's own Ricky South who went on to challenge Kage for his National Championship. Unfortunately many in the audience didn't know who Ricky South was, but it should be a great match when they face off on Feb 20th.
PCW Tag-Team Championship: The Black Diamonds v The Sly Guys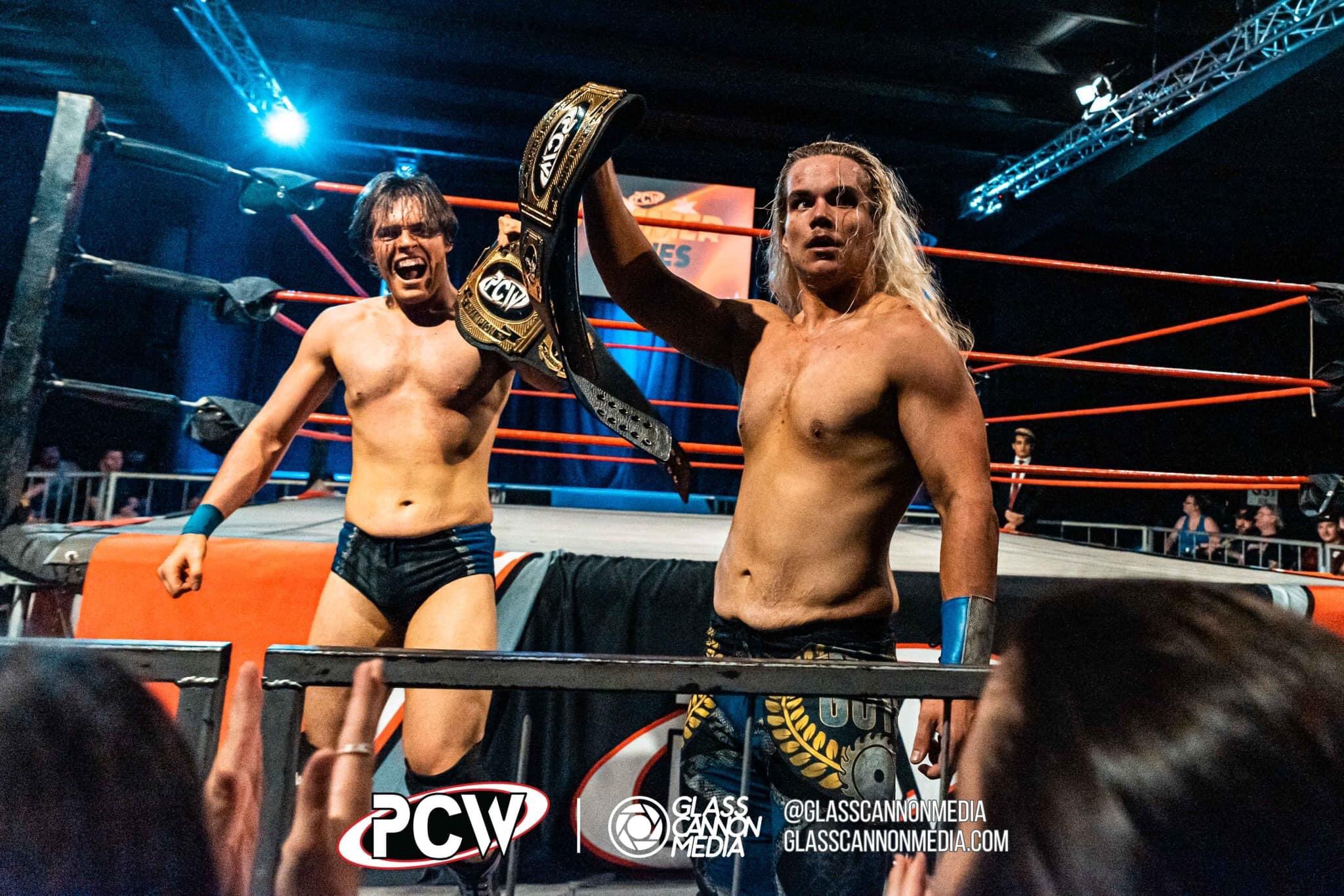 This was the best match of the entire night, one of the wrestlers in Sly Guys was just incredible. He had long bleached hair, a raspy voice, jiggly pecs and an intense stare that gave the impression he gets payed by the gram.
The Sly Guys had all the charisma in the world and despite being booed upon arrival they soon won the crowd over, transitioning from heels to faces mid match and embracing the biggest pop of the night as they defeated The Black Diamonds.
Never mind the fact that I saw maybe one hot tag in this extended affair, the crowd made this match incredible and that's what wrestling is all about. I can't wait to see more of The Sly Guys and may their reign be a long one.
For The First Time: KellyAnne v Aysha
Another great match that made me wish we had another more women on the show. I had no idea who was meant to be the face here but the imposing KellyAnne is so entertaining, her shocking chops to the petite Aysha sounded so brutal as it was like there was no meat on Aysha's chest.
Both of the girls received plenty of heat from the audience and they gave it right back. Aysha's manager interfered several times during the bout before receiving a nasty looking strike that set him face first into the unforgiving ropes. I don't know if it was the kick of the whip lash from the ropes but he busted his nose up nicely.
Aysha picked up the win with a roll up while KellyAnne was distracting dishing out punishment to Aysha's manager.
KellyAnne refused to high five a little girl on her way back to the locker room. 🙁
Summer Series Grand Final: Cass Stone v Barry O' Leary
I think this match may of suffered from the crowd and myself being a bit fatigued by all the action at this point, regardless I appreciated that both wrestlers here had good bodies and some charisma.
It was a clear good guy against bad guy match which was a good change of pace for the show, though sadly some of the "smarter" members of the audience booed the good guy and held the match back a little.
I felt the match could of benefited with a bit more urgency or story beyond the tournament setup, but it was a entirely serviceable end to the show with Lucky O' Leary winning.
Thoughts on my first PCW experience
I wanted to come and see the show with no product knowledge, I didn't set any expectations and I had no idea what I was walking into or what I was going to see. Am I glad I came? Absolutely I had a blast with my mate and I can whole heartedly recommend a PCW show to anyone looking for a fun night out.
This will definitely not be my last visit to PCW and I could even be a semi regular if I can find an easier way to get to the shows. Thanks for reading! This is all just my opinion and experience and although may sound nit-picky at times, it was a fun show and would recommend you come see a PCW show in the future if you can.