1. He's not a nerd
Baron Corbin isn't the type of guy who sits around and plays video games inside like a lot of these other wrestlers. The guy called Dave Meltzer a "cancer to wrestling" and if that doesn't make you appreciate him I don't know what will. When Corbin isn't posting about steaks and cigars he might even take time out of his day to let the smarks feel his royal fury.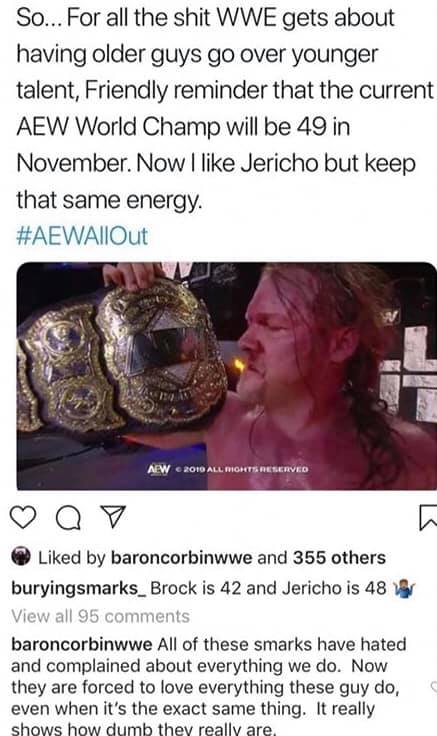 2. He's a legit tough guy
When Corbin was young he wasn't diving through the ropes in the independent circuit. No he was actually an offensive lineman for the Indianapolis Colts and Arizona Cardinals, a grappling champion and also a three-time Golden Gloves champion. Oh and let's not forget that the guy is 6 ft 8 in (203 CM) and 285 lb (129 kg.)
3. His PPV trilogy with Roman Reigns
The amount of talk and controversy generated from the dog food segment alone was incredible. There was a load of polarising opinions about this feud, but the matches stole every show they were featured on. Nothing is more memorable than two brawlers going at it and every wrestling fan should recognise this after the classic matches between Rock and Austin. If their Royal Rumble match had some blood it could've been match of the year.
4. He's great on the mic
Regardless of if he's cutting a serious promo about his childhood or if he's just comedically yelling at the referee. You know it's gonna be gold and he adds a lot to every match he's in.
5. He's safe and reliable in the ring
Corbin is well liked backstage and despite some of the wild moves in his arsenal he's not someone who takes liberties with wrestlers. This was most noticeable perhaps during the 2020 Royal Rumble, which saw him deliver the safest and slowest version of his deep six manoeuvre to a returning Edge. Corbin works like a big heel should and he doesn't do any dives or apron spots. Imagine if Brian Cage was this smart.
6. He's a genuinely effective bad guy
He doesn't get any cheers, nobody thinks he is cool like they do with Jericho or MJF. People seriously despise Corbin. Imagine the heat he'd get for winning the Rumble and upon his entrance at Wrestlemania. And while we're at it let's have him join AEW and squash Omega for the title, a storyline with King Corbin just writes itself.