"I'm Chris Jericho… and I am all in with All Elite Wrestling!"
That simple statement was a declaration that AEW was going to be a viable competitor in the worldwide professional wrestling landscape. The signing of Chris Jericho to AEW in January 2019 showed that this new company was immediately leagues ahead of any other pretenders to the throne since WWE monopolized the wrestling industry in 2001. Jericho was a game-changer. To truly understand how and why he was so significant, we need to examine his career- and what better time to do that than on the 30 year anniversary of Chris Jericho in pro wrestling?
—————
Chris Jericho began his career on the 2nd of October, 1990. To put that into perspective, WWE Champion Drew McIntyre and Universal Champion Roman Reigns were 5 years old at the time. Your writer was about 4 months old. Stars like Alexa Bliss, Sasha Banks, Pete Dunne, Tyler Bate, MJF and Jungle Boy hadn't even been born yet.
In Jericho's debut, he wrestled long-time friend and training partner, Lance Storm, to a ten-minute time limit draw. It was clear that Jericho and Storm had chemistry, and that synergy was capitalized on by promoters by putting the two clean-cut Canadians into a tag team. Initially known as Sudden Impact, Jericho and Storm impressed punters and peers alike with their blend of technical ability and terrific athleticism. Jericho notes the likes of Owen Hart, Shawn Michaels and Ricky Steamboat among his influences, and that influence is very apparent, especially in Jericho's early career years.
Jericho began expanding his horizons, leaving North America to better hone his craft and be exposed to different wrestling styles. Starting in Japan in the FMW promotion, still teaming with Storm, it was soon determined that Chris Jericho could be a marquee name standing on his own. The future Ayatolla of Rock and Rolla would find his first taste of singles success working in Mexico. Rebranded as Corazon de Leon, or "Lionheart", Jericho would gain valuable experience working with established stars such as Ultimo Dragon and Silver King in CMLL.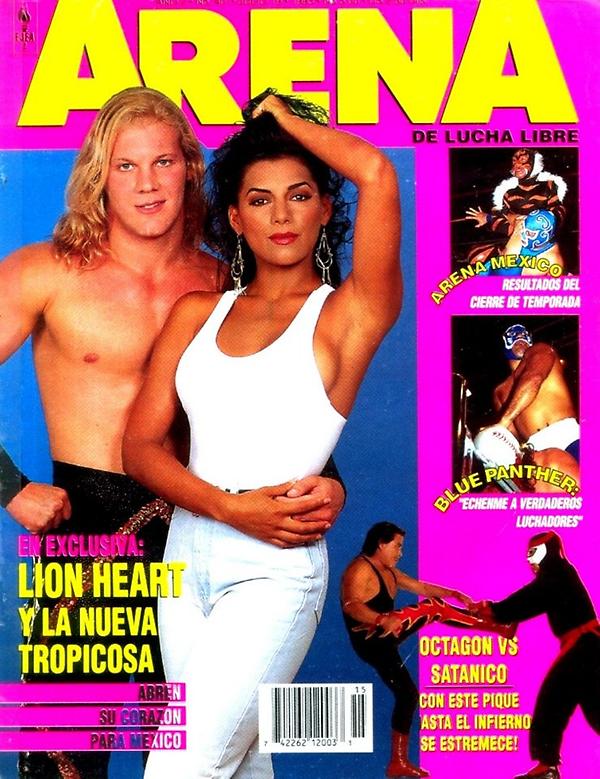 Through this, Chris Jericho is one of the few remaining top stars in the world to have come up in pro wrestling through the old-school territory system. Many today work in their home country before being discovered by a major promotion, or get trained from scratch at a facility like the WWE Performance Center, but Jericho's formative years provide him with knowledge and perspective that few of his contemporaries would possess.
Upon returning to America, Jericho would reprise his tag team with Lance Storm. Now branded as The Thrillseekers in Jim Cornette's Smoky Mountain Wrestling, they were the quintessential babyface duo, in a similar vein to The Rockers, furthering the favourable comparisons that have been made between Chris Jericho and Shawn Michaels for much of his career. The Thrillseekers run allowed Jericho to gain further experience as a talker. While he admits in his books that the vignettes were often cheesy, they did allow him to become more comfortable in front of the camera as a personality, not just a "good wrassler". Once again, Jericho was earmarked as the breakout star of the team, and his career would about to experience an extreme leap. After a conversation with creative genius/mad scientist Paul Heyman, Chris Jericho joined ECW.
As "Lionheart" Chris Jericho, Winnipeg's favourite son would get his first taste of major singles championship gold in North America in the Extreme promotion, besting Pitbull #2 to win the ECW TV title. Jericho would go on to mix it up with top stars in ECW, including Taz, Sabu and Cactus Jack. As sweet as this time was for Jericho, it would ultimately be a short run after Uncle Eric came calling.
Eric Bischoff signed Jericho to a WCW contract in 1996, and we were off to the races. As much as ECW had a cult following and was loved among hardcore fans, WCW was undeniably a true worldwide stage for Jericho to ply his trade. He could work an entertaining match, had an excellent look with his flowing blond mane, and showed great charisma during promos and segments. It seemed like a no-brainer that Chris Jericho was going to become a major star… except for one- small- problem. It wasn't an issue in Japan, Mexico or even ECW, where he faced wrestlers of similar stature, but as WCW was a major American pro wrestling promotion, Jericho was giving up a lot of size to the main event acts of the mid to late 90s, including Hollywood Hogan, Kevin Nash, Scott Hall, Goldberg and The Giant (later known as Big Show in WWE). Chris Jericho wasn't tiny by any means, but being billed as 6 foot and around the 220 pound range, it wouldn't quite cut it in the land where "the big boys play".
So Chris Jericho's time in WCW was spent in the cruiserweight division. Now, for all the flack that WCW has received over the years, it treated its cruiserweights with far more respect than WWE ever did or has. Jericho was able to stand out in this spot on the card with some great matches and top-notch moments on the mic, when his peers were mostly great workers but comparatively lacking in the personality department. Most notably, Jericho's feud with Dean Malenko spawned some memorable promos, including "The Man of 1004 Holds", where Jericho comically bragged about knowing more wrestling moves than the technically sound "Iceman".
Jericho's charisma did carry him up the card a little further than the average faceless cruiserweight in WCW, but it was clear that his talent far outweighed his card position. In mid-1999, he had his final match with the Atlanta-based company, and soon after, vignettes began airing on WWF's Monday Night Raw program, signifying a "Countdown To The Millenium", complete with a clock counting down to a specific time and date.
The time would be up, and the time would be now on the 9th of August, 1999. The timer came to a stop right as The Rock- the most popular man in the WWF at the time- was cutting one of his trademark electrifying promos. The massive lettering of "JERICHO" sprawled across the Titantron screen, and the man himself bellowed, "Welcome to Raw Is Jericho!" This particular episode of Raw emanated from Chicago, a noted hot-bed for "smart" wrestling fans who follow everything closely, and they knew exactly who Jericho was and what he was about, giving him a hero's welcome. Dubbing himself Y2J, in reference to the feared "Y2K" computer bug as we approached the new millennium, Jericho declared himself the saviour of the company. Making his debut opposite a star the caliber of The Rock, it was clear that the then-WWF saw big things in the future of Chris Jericho.
It wasn't all sunshine and rainbows for Chris Jericho in the WWF though, especially not in the early days. As Jericho recounts in his book, "Undisputed", Vince McMahon told him, "You're going to work with X-Pac, because he knows how to work, and you don't." Harsh words, but the talented Jericho used them as motivation, finding his groove and finding his way back into a featured spot a couple of months into his WWF career. He was trusted to work in a feud with Chyna, the first female Intercontinental Champion. Although this feud led to him taking a pinfall loss to the 9th Wonder of the World at Survivor Series 1999, by the end of the feud the nameplate "Chris Jericho" would be affixed to the Intercontinental Championship- a championship that would go on to become synonymous with Jericho throughout his WWF/WWE career.
Jericho's stock rose exponentially in the year 2000. Proving his worth in excellent bouts with the likes of Kurt Angle and Chris Benoit, WWF tested the waters by having Y2J beat world champion Triple H on an episode of Raw. The Game would use some McMahon-Helmsley chicanery in order to get the decision reversed, but the incredible pop given to Jericho scoring the win was all WWF brass needed to know. At some point, Chris Jericho was going to become THE GUY.
Patience is a virtue though, and Jericho would have to wait over a year before being awarded the top prize. At No Mercy 2001, Jericho defeated The Rock to win the WCW World Championship in the middle of the WCW/ECW Invasion angle, somewhat ironically claiming the title that eluded him during his run in the real WCW. Once the ill-fated Invasion angle was wrapped up, WWF decided to crown an Undisputed WWF Champion, unifying the WWF and WCW titles. Finally, Chris Jericho's moment arrived. In a one-night tournament, Chris Jericho defeated The Rock and Stone Cold to become the first-ever WWF Undisputed Champion- an accolade which his character would brag about for years.
It wouldn't be smooth sailing from here though- one thing we've learnt over the course of Chris Jericho's career is that nothing good ever comes easily. His title run would be overshadowed by the return of Triple H, who returned in early 2002 from a torn quad. The Cerebral Assassin went on to win the Royal Rumble, and challenge Jericho for the title at Wrestlemania X-8. The entire feud seemed to be more centered around Triple H and his storyline ex-wife Stephanie McMahon. Steph would become the "business manager" of Chris Jericho, but the champ felt like a pawn in the McMahon-Helmsley drama. Then on the night of Mania, both HHH and Jericho would be overshadowed by the classic Icon vs. Icon match of Rock vs. Hogan. Jericho dropped the belt to The Game in a fairly straightforward fashion. The match was fine enough, but the crowd was too fatigued for it to have that true main event buzz.
Jericho would spend the remainder of the year re-building himself. He would lose to Triple H again in Hell In A Cell, and to Ric Flair at Summerslam, but was able to acquit himself extremely well in the first ever Elimination Chamber match at Survivor Series, getting down to the final three with Triple H and a returning Shawn Michaels. The work between Y2J and HBK would be a sign of things to come… when your idols become your rivals. A feud kicked off between Jericho and Michaels leading into Wrestlemania XIX, where the similarities between the two were highlighted, and Jericho's fandom of The Showstopper was brought to the forefront. They would be set for a singles match at Mania 19, and on a loaded card, they may have stolen the show. Sublime professional wrestling.
For the next couple of years, Chris Jericho was a constant near the top of the card, either occupying the main event scene or bringing someone up in the IC title picture. He would join Team Bischoff in trying to force Stone Cold out of the WWE, he would be involved in a romance storyline with Trish Stratus (lucky son of a-) and feud with old road buddy Christian. In storyline at least, he brought up the original concept of Money In The Bank- which is a staple of WWE programming to this day. In mid-2005, Jericho was getting burnt out after a decade on the road at the highest level, never missing time due to injury or anything, so he decided to step away from wrestling for a while. His send-off was a feud with John Cena, where WWE used his star power to lend credibility to the new WWE Champion. Jericho didn't just disappear into obscurity, however- he put his focus on his rock band, Fozzy, which was starting to gain some genuine momentum, and also made a few guest television appearances in shows like Dancing With The Stars. Chris Jericho was no one-trick pony.
In late 2007, mysterious vignettes starting airing on WWE TV again. Appearing as some kind of computer code, fans spent weeks deciphering hidden clues within the videos. Although many arrived at the correct conclusion that we were getting Chris Jericho back in WWE, that didn't lessen the happiness many fans had at seeing Y2J back. Once again, he was immediately positioned opposite a top star in a verbal battle- this time it was WWE Champion Randy Orton. Jericho challenged for the WWE Championship, 6 years after he won the undisputed version, at Armageddon 2007. He would feud with JBL after this and capture another IC title by beating Jeff Hardy. He was a welcome addition to the roster, but something felt a little off. I couldn't place my finger on it at the time, but Jericho could, and what happened next was one of the biggest examples of Jericho's genius, and the reason he remains relevant 30 years into his career.
You see, the Y2J character was getting a little tired. Jericho was playing the greatest hits, and for some people, that's enough. It's like if you go to watch Metallica play. You love hearing "Enter Sandman" and "Master of Puppets" and "Ride The Lightning", but if you went to the concert a few times and they kept playing the same songs, eventually you're going to want some new material. So Chris Jericho began a slow transformation towards being a heel, but a different kind of heel to any he had played before. He stripped away everything that was likeable about Y2J- the catchphrases, the flashy clothes, the dynamic way of speaking. The final step in the transformation was grabbing Shawn Michaels by the neck and symbolically throwing his face through the obscenely expensive Jeritron 5000 on his Highlight Reel set. In doing this, he destroyed the biggest inspiration for the old Chris Jericho and the last remaining pieces of the beloved rock star character, in one fell swoop. In his place was "The Best In The World". Jericho spoke in a slower, flat cadence, wore suits, used ten-dollar words and generally made sure every word and action he made was as evil as he could possibly make it.
This run led to some of the best work of Chris Jericho's career. He spent most of 2008 once again feuding with Shawn Michaels, but in a far more personal rivalry than what took place five years earlier. Jericho legit punched HBK's wife in the face, for crying out loud! That program would conclude at No Mercy in a critically-acclaimed Ladder Match for the World Heavyweight Championship. Going into 2009, Jericho destroyed another of his idols, Hall of Famer Ricky Steamboat, in memorable matches at Mania and Backlash. From there, a feud with Rey Mysterio included many MOTY candidates. Around this time, Jericho would add more world championships and even Superstar of the Year Slammys to his resume.
At the tail-end of 2010, Jericho once again left WWE to pursue his music career. Fozzy had come a long way from the silly cover band it originated as. The albums Sin and Bones and Do You Want To Start A War? Were released to a positive critical response. Fozzy were involved in major festival tours like Download and Soundwave, sharing the bill with giants of the music industry like Metallica. But Jericho's heart still lay with pro wrestling, and he would find his way back to WWE at the beginning of 2012.
Once again, Jericho showed himself to be the master of reinvention. He reveled in the huge pop he got upon making his return to Raw… maybe a little too much. He jazzed the crowd up, who were hyped for the return of Y2J… and left. His only words in the month of his return were a promise that the 2012 Royal Rumble would be "the end of the world as we know it".
That promise did not come to fruition, as Jericho was the runner-up in that year's Rumble, falling to Sheamus. With the Celtic Warrior choosing to target the World Heavyweight Championship, Y2J set his sights on WWE Champion CM Punk. Returning to the dark side, Jericho began a new heel run where he accused the current generation of Superstars- including Punk- of copying him. Everyone was a "Chris Jericho wannabe". Although Jericho fell short in title bids at Wrestlemania 28 and Extreme Rules, his performances lived up to the high standard that fans and critics had come to expect from him over his storied career.
From this point, Jericho would dip in and out of WWE, juggling his two careers of music and wrestling. A feud with Dolph Ziggler would seemingly conclude around Summerslam 2012, and Jericho would disappear from the company. He made a surprise return as #2 in the 2013 Royal Rumble, but he was not committed to a full time schedule. So, WWE decided to get the most out of Chris Jericho's star power as a multi-time world champion and future Hall of Famer, having him put over younger talent. Jericho's sporadic appearances over the years that followed saw him look up at the lights for the likes of Bray Wyatt, CM Punk, Dean Ambrose, AJ Styles… and most controversially, Fandango. Yeah, THAT Fandango.
As a major Chris Jericho fan, this change in his career trajectory disappointed me. I saw the logic in having him put over younger talent, but it got to the point where a win over Jericho didn't mean a whole lot, because he jobbed to damn near everyone. Thankfully, the tide would turn for the first ever Undisputed Champion in late 2016.
Jericho struck up a partnership with fellow Canadian, Kevin Owens. Owens had become the Universal Champion, and Jericho often helped him keep the title. Jericho adjusted his character once again during this time period, breathing new life into him- I guess I should note that during the few years he was in and out of WWE, he generally reprised his old Y2J character. But this was different. He began wearing scarves, calling people "stupid idiots" and most notably, started the List of Jericho. If anyone crossed him, he would yell, "YOU JUST MADE THE LIST!", complete with a dramatic flair of the pen. Jericho's antics became the highlight of Raw by a considerable distance.
With crowd reactions for the "List" version of Jericho at an all-time high, it was time to split him from top heel Owens. In one of the best segments on Raw in several years, Chris Jericho hosted The Festival of Friendship, where he showered his buddy KO with gifts amidst a ton of pomp and circumstance. It was hilarious, but also underpinned with sincerity as Jericho talked about this run with Owens being one of the best of his career. As it turned out, Owens had a gift for Jericho too- The List of KO. Jericho asked "why is my name on this List?" before realizing what was happening. Kevin Owens viciously assaulted Chris Jericho, punctuated with a powerbomb on the apron. An incredible angle, but what happened next would set the wheels in motion for Jericho to leave the company- this time for good.
The big grudge match was set for Wrestlemania 33, Kevin Owens vs. Chris Jericho. After months of build, these two fierce rivals would do battle… over the US title, in the second match on the card. According to Jericho, this was originally pencilled in as a Mania main event over the Universal title, but plans were changed, and that went to the Goldberg vs. Brock Lesnar match instead. It was a decent match between Jericho and Owens, but felt decidedly midcard because of the spot and time it was given. Jericho has spoke in interviews about feeling disrespected by the events surrounding this match and feud, and it's hard to blame him. He finished out his contractual obligations with a re-match against Owens the following month at Payback, and was gone from WWE, outside of a handful of cameo spots. Chris Jericho wasn't satisfied being a midcard player, with his talents undervalued. Instead of just complaining about it though, Jericho was set to do something about it.
While WWE has been the biggest name in town for decades, the wrestling scene changed throughout the 2010s. New Japan Pro Wrestling was picking up steam, as they made their shows more accessible to worldwide audiences through its NJPW World streaming service, which included English commentary over their shows. NJPW was rapidly growing in popularity, thanks in large part to a rivalry between their world champion, Kazuchika Okada, and Winnipeg import, "The Best Bout Machine", Kenny Omega. But if Omega was going to lay claim to being the best wrestler to come out of Winnipeg, Chris Jericho was going to have something to say about it.
On November 5th, 2017, Jericho appeared in a vignette at a NJPW event, challenging Kenny Omega to a match at Wrestle Kingdom 12. This was Jericho's first wrestling appearance outside of WWE in 18 years! The match was set, and the world was abuzz at this huge story- WWE legend Chris Jericho made the jump to Japan! NJPW World subscriptions skyrocketed, as the wrestling world was curious to see what Jericho in a NJPW ring would look like. This was not Jericho's first appearance in New Japan- he had wrestled for them as part of a talent exchange while part of WCW. However, the Jericho we were getting at Wrestle Kingdom was an entirely different animal.
Wrestle Kingdom 12 took place at the Tokyo Dome, and the arena was packed with fans from around the world. Chris Jericho brought major business to NJPW. He also changed up his character and look once again, calling himself the Painmaker, and bringing a much more violent style than what he was previously allowed to do in WWE. Jericho lost to Omega, but in the process gained his first ever 5 star match rating from the Wrestling Observer. At 47 years old, Jericho was as relevant and talented as ever.
Jericho's NJPW run would continue sporadically for the next couple of years. He had a Brock Lesnar-esque schedule, making appearances for major events so he could continue to pursue music and acting in addition to his wrestling career. Those outside ventures were becoming more and more lucrative for Jericho, but he was still one of the best pro wrestlers in the world. He beat Tetsuya Naito to win the IWGP Intercontinental Championship- he had won Intercontinental Championship on several occasions, holding WWE's record at 9 reigns, but this was the first time holding the NJPW version of the gold.
Chris Jericho was doing amazing work in the land of the Rising Sun, but he had always maintained that he wouldn't wrestle in the States, out of respect to Vince McMahon. Well, either he was working us or changed his mind, as he made an appearance on the independent wrestling PPV, All In. Disguised as Pentagon Jr, he attacked Kenny Omega, in an angle designed to promote the Chris Jericho Cruise, a cruise involving both pro wrestling and rock music. But that was only the beginning.
In January 2019, rumours were confirmed that a new pro wrestling company was being launched. Founded by the Khan family, in conjunction with the men who put together the ALL IN show- Cody, Omega and The Young Bucks- All Elite Wrestling was born. AEW held a rally in Jacksonville, Florida to promote this new venture. Fans were excited, but this rally needed something special, something to put it over the top… Enter Chris Jericho.
The acquisition of Jericho by AEW was a gamechanger. They had a bona fide legend on the books, one of the most accomplished and decorated wrestlers in history. On top of that, he wasn't just some past his prime guy trying to hang onto glory… sure, he's definitely older, but he created so much buzz around himself by taking chances and changing his character and career path up, he felt like such an exciting prospect. AEW built their company around Chris Jericho, making him their first ever AEW Champion, and Le Champion was born.
AEW has been an exercise in showing Jericho's great creative mind at work. Calling himself Le Champion, turning every other phrase into a meme or t-shirt, lending his star power to his faction, the Inner Circle… and still producing in the ring. He's worked with several new talent, such as Jungle Boy and Darby Allin, and appears to be set for a feud with a young man who is basically his mirror image from 20 years ago, MJF. Jericho has said that he writes all his own stuff- which is submitted to boss Tony Khan for approval- which is proof that Jericho is an asset to the pro wrestling business even when not competing in the ring. Realistically, we might not have Chris Jericho as an active competitor much longer. Last week marked 30 years as a pro wrestler, and he turns 50 years old next month. But he's so damn entertaining on the mic, and even on the headset in his recent AEW commentary work.
Who knows when Chris Jericho will be done? He's seemingly defied the laws of aging or getting stale for so long. Admittedly, he has slowed down from a physical standpoint, it's not reasonable to expect him to still be the athlete he was when he was 25 or 30. But for my money, he's still had several highly entertaining bouts over the past year and a half in AEW, as well as a great special appearance at the start of this year at Wrestle Kingdom 14, beating the Ace, Hiroshi Tanahashi. Jericho's theme song is "Judas", but we should be calling him Midas, because everything he touches turns to gold. Whether he's wrestling, talking, singing, podcasting, acting, leading a cruise ship… Chris Jericho can do it all. 30 years of incredible entertainment… who knows what's next?
Until next time, take care,
Mick